1. Introduction
The Czech Republic's capital is full of amazing sights of great value. But Charles Bridge definitely belongs among the TOP 5 most amazing ones. Not only is this medieval building one of the most famous bridges in the world, but it is also inseparably connected to the most glamorous era of Prague and – last but not least – it just might be the most beautiful bridge in Europe. And we are not exaggerating at all…
Charles Bridge is 516 meters long, 9.5 meters wide, 13 meters high, and stands on 15 pillars. It's also the part of the so-called Royal Route.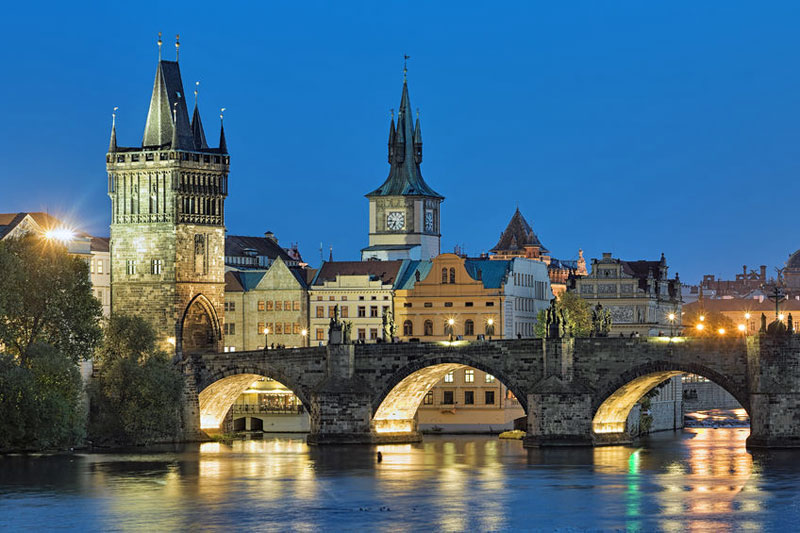 Recommended Guided Tours for Charles Bridge
2. History and Legends of Charles Bridge
Charles Bridge is the oldest bridge still standing over the Vltava river in Prague and the second oldest bridge in the Czech Republic. Charles IV had it built in 1357, after the previous bridge ("Judith Bridge") had been destroyed by floods in 1342. The construction of the bridge was led by Peter Parler ("Petr Parléř" in Czech), the famous German-Czech architect, and it took almost half a century to finish it (It was completed in 1402). The bridge, formerly known as "Stone" or "Prague", has only been called "Charles Bridge" since 1870. And until 1841 it was the only bridge over the Vltava river in Prague.
Charles Bridge has undergone many restoration procedures. And recently (February 2016), there was a scandal…in a sad and hardly understandable act of vandalism, some foreign tourists damaged the bridge – spraying signs on it. If caught, the vandals might theoretically face a sentence of up to three years of imprisonment. Of course the damage will be fixed, but this affair might serve as a symbolical reminder of how even the most valuable historical landmarks, that have lasted for centuries, today often face threats by thoughtless people who are not able to respect what hundreds of thousands of people come to admire every year…
3. Charles Bridge Legends
Charles Bridge is built of sandstone blocks and it's construction is surrounded by many interesting legends. According to one of those, the builders decided to strengthen the bridge by adding raw eggs into a mortar. Historians still has not come to any conclusive agreement whether it is true or not. But what is most likely a myth is the story being told – that there were not enough eggs in Prague, so that they were brought from every corner of the land and the inhabitants in one of the regions were afraid that the eggs would break during the transport, so that they sent them boiled – to the great amusement of the whole of Prague.
Apart from the already above mentioned legends, let´s describe two more interesting "urban myths", connected with Charles Bridge. Both of those will especially speak to the lovers of scary stories. The first one is connected with John of Nepomuk, whom we already mentioned. According to a Czech folk-tale, soon after his tortured body was thrown down from Charles Bridge, one of the bridge arches collapsed. And every attempt to fix the bridge failed mysteriously. One of the builders, believing that it was God's penalty for Nepomuk's fate, decided to make a pact with the Devil. For making the bridge reparable again, the builder promised the soul of the first person to step on the bridge to the Devil…
The other scary urban legend tells of a cross that used to be placed at Charles Bridge. Allegedly, convicts sentenced to the death penalty were allowed to kneel under it and pray – on the way to their execution. And nowadays, many people swear to have seen the cross (that was removed from the bridge long ago) in their hardest times. Other – vice versa –  believe that if you see the cross, it is a sign of something tragic coming…
Nevertheless, Charles Bridge is not a scary place, quite the contrary. It is a magnificent, charming historical building, often full not only with tourists, but also various artists, painters and musicians.
4. Significant Components & Statues
Charles Bridge, spanning the Vltava river with 16 pillars, is rich in statues and decorative lamps, and it catches the eye immediately with its beautiful Gothic bridge towers on both ends. You will find three tens of magnificent statues on the bridge, mounted in two rows. We could basically write a whole article on every single one of them, without becoming boring, since these art pieces all burst with their own stories and meaning. So let´s just briefly describe some of them…
One of the most interesting statues on Charles Bridge is definitely the Statue of St. John of Nepomuk. It has a huge religious meaning, since it immortalizes the memory of John of Nepomuk ("Jan Nepomucký" or "Johánek z Pomuka" in Czech), one of the most significant Czech saints. According to a legend, John of Nepomuk was tortured to death after he refused to give away the confessional secret of the queen. And allegedly his tongue stayed preserved hundreds of years after his death – thanks to his honesty. Many people believe that it brings luck if you touch the statue…
The Statue of Saints Vincent Ferrer and Procopius is one of the most artistically important ones on Charles Bridge. It was created by the Czech sculptor and carver Ferdinand Brokoff in 1712. There is a column with a sculpture of a famous mythical Bohemian knight Bruncvik behind this statue. It shows Bruncvik ("Bruncvík" in Czech) with a golden sword and a lion at his feet. This is because, according to a legend, Bruncvik once bravely helped a lion fight a huge dragon. And the lion, of course, then became the knight´s friend.
The sculpture group of St. Lutgarde is especially interesting from an artistic point of view, being maybe the most praised piece of art on the bridge. It was created by Matthias Braun, ("Matyáš Bernard Braun") perhaps the most famous of the Czech late baroque style sculptors, in 1710. It shows the Czech saint and blind nun´s Lutgarde ("Luitgarda") vision of crucified Jesus.
5. Location, Map, Opening Hours, Tickets & Entrance Fee
Charles Bridge is not difficult to find at all. If you approach it from the side of the river, where the Prague Castle is, you can walk to it through "Mostecká" street, leading from the "Malostranské náměstí" Square. You can travel there by tram (to "Malostranské náměstí" tram station), or walk from Prague Castle. On the other side, the bridge leads to the "Křížovnické" Square and then "Karlova" street – ending at the Old Town Square. The nearest tram station is "Karlovy lázně".
You can go to Charles Bridge anytime. There are no closing hours (it's publicly open 24/7) and no entrance fee – it's completely free. The bridge toll has not been collected for 200 years…
Honest Tips For Your Prague Stay
AIRPORT TRANSFER Get a private transfer from/to Prague Airport for a price of regular taxi (€31).
PRAGUE CITY CARD Save time and money with Prague Card, and see 60+ sights for free.