David Cerny was born in Prague and is one of the city's most famous sons. He is internationally notorious for producing pieces which are both eye-catching and highly controversial. Cerny is probably best known for his giant faceless babies, which today crawl happily up and down the TV tower in Zizkov, the tallest building in the Czech Republic, measuring in at 216 meters.
Prague's streets are also home to some of Cerny's other creations and taking a tour of his various sculptures and installations is not only a great way to check out some fascinating art work but also an opportunity to explore some different areas of the city.
The free of charge tour with no entrance fees begins at the Franz Kafka Museum (just a 5 minute walk from Malostranska Metro station, A line). To complete the more central leg of the tour should take no more than 1 hour 30 minutes on foot, but of course you can reduce this time drastically by opting to take public transport or Uber. Here is a brief guide to what you can see and where you can see it.
To make it easier for you we have built a custom Google Map with all stops and a walking route which you can view or download in PDF.
Stop #1 – Peeing Guys
This sculpture is a real crowd pleaser. You really can't go wrong with two butt naked gentlemen peeing into a pool shaped like the Czech Republic. One less obvious element to this piece is that the men actually spell out quotes made by famous Prague residents. It's even possible to send an SMS and have our friends spell out your own personal message through the medium of urine.
You will find this sculpture in a small courtyard just outside the Franz Kafka Museum in Mala Strana. From here, stop #2 is only a 2 minute walk away through beautiful Mala Strana…
Stop #2 – The Crawling Babies at Kampa Park

A tour of the work of David Cerny could never  be complete without catching a glimpse of the famous babies. They can be viewed easily from the base of the Zizkov TV tower, however, if you want to get really up close and personal with a giant faceless baby, head down to Kampa Park, where you will find 3 of them on the rampage.
If your feet are feeling a little sore at this point in the tour, we highly recommend stopping off at Mlynska Caffe. This gorgeous little cafe was once a functional water mill but now serves as a cosy yet intriguing venue serving a wide variety of drinks and snacks. From here, stop #3 is around 20 minutes walk away.
Stop #3 – The Embryo
This is definitely one that you could miss if you weren't looking for it. You will find it on the wall of Divadlo Na zabradli on Anneske namesti. David Cerny has never been one for explaining the thought processes behind his work, so we'll leave you to ponder the symbolism of this one.
To find stop #6 it is necessary to return to the main Narodni street. From here, stop #4 is around 8 minutes walk away.
Stop #4 – The Hanging Man (Sigmund Freud)
If you don't walk around staring at the sky, it's very easy to miss this guy. It's a representation of the famous physiologist Sigmund Freud but why he's hanging around from this Prague rooftop is anybody's guess.
You will find him dangling at the junction of Na Perstyne and Jilska, close to the Narodni Trida Metro station (line B). Stop #5 is just 10 minutes away.
Stop #5 – Metalmorphosis (Head of Franz Kafka)
Metalmorphosis is simply mesmerising. I could stand and watch for hours as its giant metal plates rotate to reveal and unreveal the face of one of Prague's most famous sons, Franz Kafka. It came to Prague in 2016 and can be found outside of the My Narodni shopping centre.
To find it just walk past the shopping centre down the main Narodni street and enter the passageway between the O2 shop and Humanic. From here you can't miss it. Now that you have spent some time being mesmerised by giant, spinning metal plates, it is time to find stop #6, which is a short 5 minute walk away.
Stop #6 – Svaty Vaclav (
St. Wenceslas

)

Most people who visit Prague, will at some point see the large statue of Svaty Vaclav (St. Wenceslas), which stands guard over Vaclavske Namesti (Wenceslas Square). Not everyone who visits Prague however, will see David Cerny's cheeky parody of this famous statue, which hangs from the ceiling of the Lucerna Passage just off Vodickova street.
If you have come this far, we highly recommend taking a few steps further and experiencing the timeless elegance which is the Cafe Lucerna. Simply walk up the stairs and step through the red velvet curtain and into another time. This regal watering hole serves a wide range of drinks and cakes and if you find yourself here during the evening, you may even witness some spontaneous ballroom dancing breaking out.
From here you can hop onto the metro and take the A line 3 stops from Mustek to Jiriho z Podebrad (aslo called "JZP" by local expats due to very hard pronunciation). Being by far the tallest building in Prague, the Zizkov TV tower is difficult to miss and it is here that you will find stop #7. For those people who love to walk, stop #7 is a pleasant 30 minute walk from the Lucerna Passage. Simply walk to the top of Vaclavske Namesti (Wenceslas Square) and follow the road which leads to the left of the National Museum (Vinohradska street). If you keep following this road, it will lead directly to Jiriho z Podebrad Metro Station.
Stop #7 – The Crawling Babies on the Zizkov TV Tower
You've seen the babies up close, now marvel at them as they crawl up and down a 216m tower. The TV tower is more than just a tower. It boasts a viewing station, a restaurant, a skating rink during the winter and mini golf course during the summer. For more information about what they offer, check out their website.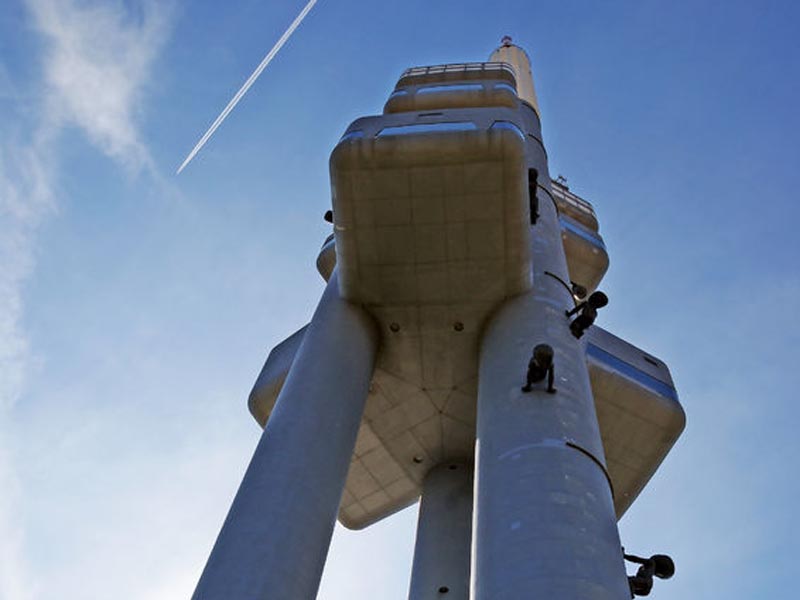 Here ends the more central leg of the David Cerny tour. At this point you would be perfectly entitled to reward your hard work by enjoying dinner, a cocktail and stunning views in the famous TV tower's Oblaca Restaurant. However, for those who are truly dedicated to the artistic cause there is one more stop and although it is a little off the beaten track, stop #8 is more than worth the effort.
To get to the next stop we recommend taking an Uber taxi with code "PRAGUEGO" for a free ride. By public transport it is a long 45-minute journey. But if you willing to do so, it's tram 5 from Olsanske Namesti to Lihovar from where you can already see the majestic building of MeetFactory.
Stop #8 – MeetFactory
Anybody with an interest in the life and works of David Cerny should visit the MeetFactory in Prague's Smichov district (so named, as it is built in what was formerly a meat factory). It was founded in 2001 by David Cerny himself as a centre for international contemporary art. The gallery exhibits work from both established and emerging artists, in addition to dedicating one of it's outside walls to large scale street art. The building is a real attention grabber, as its facade is adorned with two giant red cars, hanging upside down and apparently melting away from the beams which support them. To walk under these car on a blustery day is a slightly unsettling experience as they creak and sway in the wind.
The gallery can be accessed by public transport. Simply take the 12, 14 or 20 tram from Andel to Lihovar, then continue walking along the road until you come to a bridge crossing the railway tracks. Cross the bridge and walk back on yourself until you reach the gallery. Gallery is open everyday from 1 pm to 8 pm, entrance fee to the gallery section is usually voluntary.
To get to the last stop take the tram 12 from Lihovar to Andel and from there it is a short 15-minute walk (900 meters).
Stop #9 – Brownnosing
Have you ever dreamed putting your head inside a giant stone anus and watching a video of Czech politicians feeding each other, serenaded by the Queen classic "We are the Champions"? If you answered yes, your dreams are about to come true, as one of Cerny's more controversial sculptures allows you to do just that.
"Brownnosing" is a permanent exhibit at the FUTURA gallery in Smichov. The gallery is open Wednesday to Sunday 11 am – 6 pm and can be found at Holeckova 49, Prague 5 Smichov. Entry is free, although there is an optional donation.
Honest Tips For Your Prague Stay
AIRPORT TRANSFER Get a private transfer from/to Prague Airport for a price of regular taxi (€31).
PRAGUE CITY CARD Save time and money with Prague Card, and see 60+ sights for free.